PARTICIPANTS

Restaurants/Catering

Bistro 88
Black Duck
Cake Suite
Cocoa Michelle
Coffee + Pi
Collyer Catering & Market
Commuter Coffee
Cuatro Hermanos
Du Soleil
Dunkin Donuts
Dunville's
Embody Fitness Gourmet
Julian's Brick Oven Pizza
Mansion Clam House
Marios Place
Pappadum
Rizzutos
Roly Poly
Tarantino
Tarry Lodge
Tutis
VFW/Gallo Group Catering
Viva Zapata
Westport Chinese Takeout

Liquor/Wine Tasting

Saugatuck Wine & Spirits

Retail

Bridge Garage
CleanTech & Barnett Hill Productions
Desi's Corner Store
Down Under
Eco Logic
Gold Coast Exchange
Greenfield Clearners
Indulge by Mersene
IPM Automotive
Jessica Ryan's Salon
Laura Barton Gallery
Lifetronic Systems
Minutemen Clearners
Paul Albert Salon
Ron's Barber Shop
Saugatuck Craft Butchery
Saugatuck Studios
The Saugatuck Rowing Club & Fitness Center
TD Bank
Ultimathule
Westport Outfitters
World Champ. Tae Kwan Do

Events:

Bands:

Trag (@Dunvilles)
Marvin Beach Bums (@Bridge Square)
Too Blue (@Railroad Place)
String Fingers Band (@Railroad Place)
Five in the Chamber (@Black Duck)
Breaks Over (@Black Duck)

Solo Artists at Tarry Lodge:
Lisa Furman
Shawn Taylor


Luciano Park:

Tae Kwan Do Demo
1 and 2 pm

Fly Fishing
12:30, 1:30pm

Fire House:

Tours and
Fire Safety Demonstrations
12 - 3

Artwork by:



Video produced by John Hartwell
Come and see what's happening in Saugatuck - it's a renaissance of food, drink and activity.

After a highly successful event last year, this year on Saturday September 15, 2012 from noon - 3pm over three dozen of Saugatuck's finest restaurants, shops and galleries will be opening their doors and inviting the community to come and sample their offerings. Walk the streets of Saugatuck Center and taste your way from restaurant to restaurant, to liquor store, to retail merchant and back.

Walk the Slice!!!

From Riverside Avenue to Railroad Place, to Charles Street, to Saugatuck Avenue each venue will have something special to offer. Try some brick oven pizza, a specialty soup or a dish from Mario Batali. Try something at Bridge Square's 3 new eateries. Watch a Black Belt Tae Kwon Do demonstration by Westport's award winning martial artists or learn to fly fish. Listen to over 4 bands and stroll along the boardwalk at the plaza overlooking the river. Maybe even take a paddle on a SUP or kayak. There is so much to do for the whole family. Bring the kids and check out the Fire Department's antique fire engine, the fire safety trailer and tour the historic Fire House which will be open to the public.

Grab a map and see if you can taste everything being offered. Your stomach will be full before you get to the end.

Activities:

Restaurants / Caterers, 23 of them, will offer free tastings of their signature dishes right in front of their locations.

Liquor Stores will offer free wine tastings.

Retailers will offer kayak rides, gym work outs, fly fishing lessons, Environmental tips, discount coupons and martial arts demonstrations.

At least 4 bands playing at venues throughout The Slice.

All this for an all inclusive $5 participation fee. Profits will be donated to Homes for Hope, Gillespie Center Food Pantry.

Parking is on Riverside Avenue under 95 in the RR lot #5, right next to the new plaza.

The goal is to have you see Saugatuck for what it is, where it is. Come and Walk the Slice!

Note: Railroad Place will be closed to be a block party. Access to the train will still be available.

News from This Year's Festival:

OmnomCt.com On Line food Blog
CT Bites announces the festival
Westport Minuteman Chimes in
The Daily Westport promotes the festival
Our Town Crier covers the Slice.
Patch has piece on the festival
Westport Now as well
Dan Woog's 06880
Hula Frog jumps in.

News from Last Year's Festival:

Westport News - August 3rd - Town Approves Festival - Slice to Showcase Saugatuck.
CT Magazine - Announcement
CT Bites promotes Festival
Daily Stamford Chimes in
Westport Now Sept 16
Westport News Sept 16
The Daily Westport Sept 16

---
If you have any questions please contact Matthew Mandell, RTM Representative and event organizer, at matthew@westportd1.com or at 203-227-1333.

The Westport Weston Chamber of Commerce is joining this year as an associate organizer, Lisa Parrelli Gray is the contact at Lisa@westportwestonchamber.com 203-227-9234.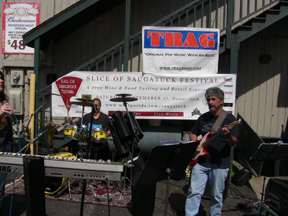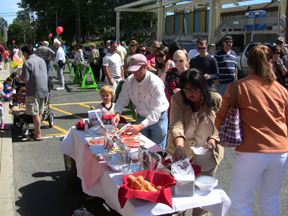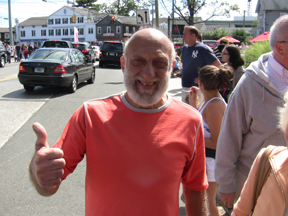 Sponsored by: